• Home

Banks-

• Offline orders


Contact us

Other Products-
Coopered Oval Banks
These banks are made with the larger #2 door (which is about 6" square). For many centuries, buckets, barrels, and other containers were made by fastening slats of wood together at an angle (today we call this "coopering", after the men who did it for a living). I've applied this technique to my bank designs, and this was the very first coopered model that I came up with.
Made from Oak (usually Red Oak), or Maple for $65.00, this bank is also available stained, or in exotic woods (price to be negotiated for exotics). The left one below is made from Black Walnut. If you want one made in Walnut, let me know in email- I'll let you know if I don't have one in stock.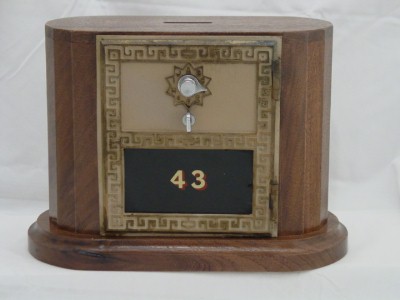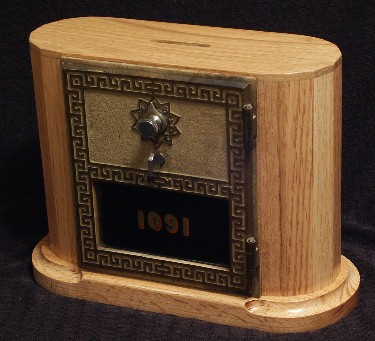 Large Oval Bank- 65.00
Doorless Large Oval Bank- $50.00
:: About our banks ::
All of our banks are designed and handmade by Steve Kreitler, using a combination of fine hardwoods and retired Post Office box doors.