Home

Products-


• Pedestal banks
• Oval Banks
• Corian Banks
• Elipse banks
• Alamo banks
• Tombstone banks
• Round coopered banks
• Extras

Contact us



Corian Slot Escutcheons
If you've looked around at the Post Office Box Banks being offered by others, you might have noticed that many of them come with a brass slot cover. I've never been inclined to use them, but they did give me an idea. A little while back, I got hold of some DuPont Corian solid surface material, and the results can be seen below.
I haven't made any of these in quite some time, but I've decided to get back out and get some ready, so they should be showing up on here soon in one form or another.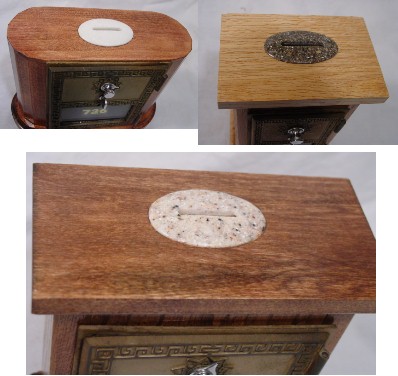 :: About our banks ::
Each of our banks are designed and handmade by Steve Kreitler, using a combination of fine hardwoods and retired Post Office box doors.