Home
Products-
• Pedestal banks
• Oval Banks
• MD Banks
• Nameplates
• Corian Banks
• Alamo banks
• Tombstone banks
• Round coopered banks
• Extras

Contact us



Elipse Banks
I haven't made any of these in some time, and was about to take them off the site, when an order came in for one- I had so much fun making it that I decided to leave them here :)
This one takes it's name "Elipse" from the base, which forms a geometric shape called an elipse. Available stained or in natural woods- Oak, which will look a lot like the one pictured below on the left, or Poplar, which is much more unpredictable (but can be pretty spectacular). Also available in exotic woods (price here is dependent on the choice of woods). A feature that is exclusive to this bank is the "watercolor" type stain as shown below- it's quite unusual, and very striking in a light green.
Price is $45.95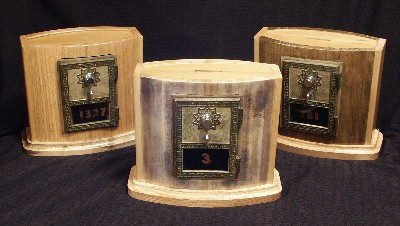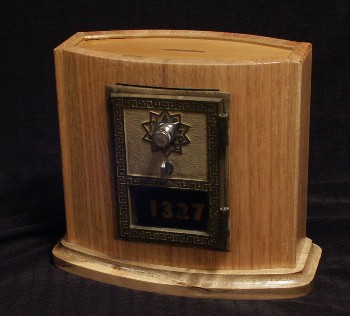 :: About our banks ::
All of our banks are designed and handmade by Steve Kreitler, using a combination of fine hardwoods and retired Post Office box doors.